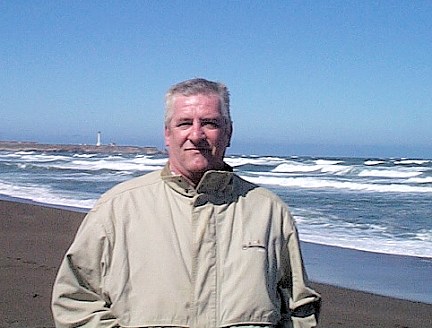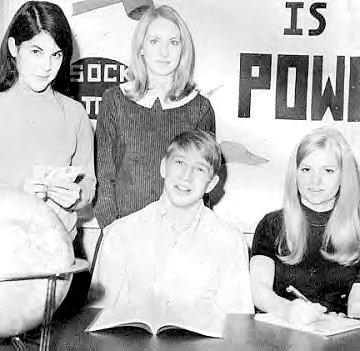 President

Vice President

Treasurer

Secretary

Jim Pensyl

Sandy Bird

Ellen Lashuay

Lynne Sullivan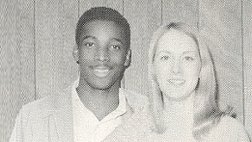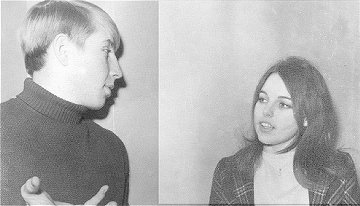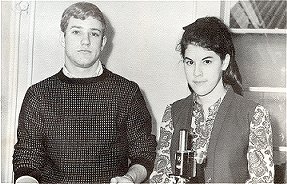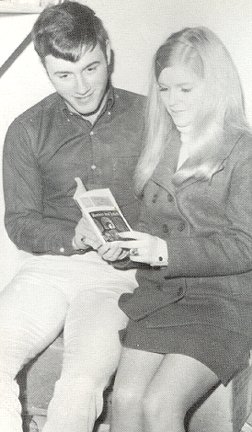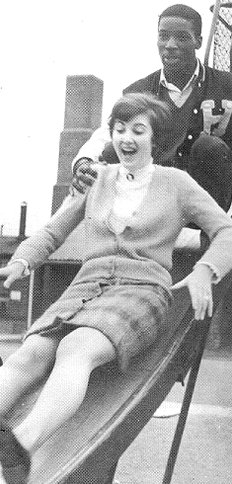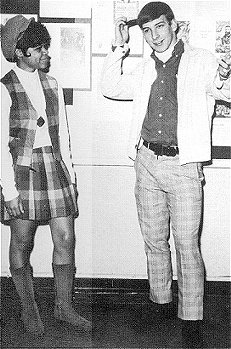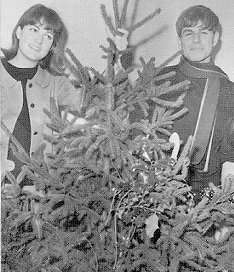 Best All-Round

Ben Lofton and Sandy Bird

Most Likely To Succeed

Chris Chapman and Ellen Lashuay

Best Dressed

Jim Pensyl and Becky Robinson

Most Attractive

Ron Chatham and Lynne Sullivan

Most Talented

Brenda Coleman and John Davis

Most Athletic

Heather Evans and

Ben Lofton

Friendliest

Mary Lynn Lasater and Dann Cox

I got off my butt and updated this page on August 25, 2011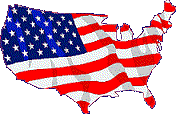 Welcome to the Class of '69 home page. We weren't all Air Force brats, some were from other branches of the military, some were civilians, but we were all Hadites, and we were proud to be one of the original founding classes at Upper Heyford High School. This page was created to help preserve the memory of our past, and to let each other know what we've been up to over the years since we graduated, and is dedicated to Hadites everywhere.

Thanks for stopping by, hope to see you again soon!!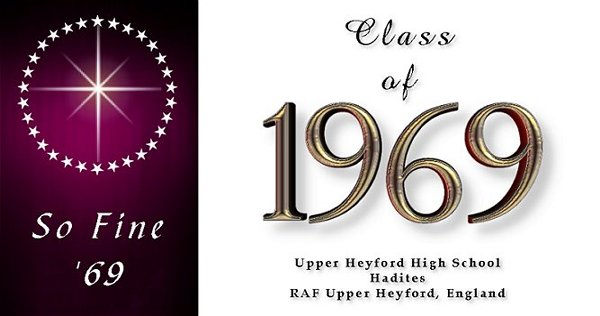 Hi this is Kathy Carroll-Cedrone. At the present time I live in Bel Air, Maryland, I think this is my last move in life. I have been married 32 years to a wonderful man by the name of Larry who works for the National Weather Service.  He took me away from my home in Texas and brought me to the East Coast 30 years ago, which is where he is from.  We have lived in New Jersey, Florida, Delaware and now here in Maryland.

For the past thirty two years, omg this is a long time!!  I have worked for physicans, usually pediatrics, as I love children. My greatest joy was the birth of my two children.  Larry now 26 and Laura, now 22.  Still neither of them are married, but one day I hope to have some grand children, I keep after them, but they just ignore me..like most kids do to their parents.

I have several things that keep me busy in life, crafting, shopping and more shopping. Oh yeah and baking, but I hate to cook, boring, but I still do it everyday, unless I can talk Larry into taking me out to dinner.

I have many memories of my years in England, graduating from HS with many friends who have re-entered my life with great love and friendship. Finding these special people have made my life so joyous, as I never expected to meet up with them again. Many smiles, many laughs with each of them make my day.  As for many more memories I could go on and on, but  I will end here, and hold them all close in my heart.

30 years well I've enjoyed life. I've played hard and worked hard. With respect to work I was employed by the US Coast Guard, Nabisco, Reynolds Metal, and Anheuser Busch among others. Worked in Venezuela for a short period. 

The work I do is varied. I'm an electrician by trade. The work is very technical. I'm well trained and am proud of what I do.

Play over thirty years is another story. I played chess in tournaments from New York, Pennsylvania, Maryland, Wash DC, Virginia and played by mail all over the world.  I became a master at correspondence chess. Was very involved in microbiology herpetology and other sciences, studied art, belonged to the society of American magicians and the International Brotherhood of Magicians. Guitars and amps, played and repair. Camped, hunted, fished, and white water canoed years past.

Live in Virginia, as does my brother, sister, and father. Mom passed away almost 2 years ago.

Memories, do I have memories. It's my belief that you never die as long as someone remembers you. Sharing memories is fun but I don't know where to begin.

When I'm around people it's like a sitcom. I have a good time but I am really a loner. My dogs, well, we don't need no stinkin' leashes. I'm the Alpha dog.

Hadites since January 3, 2003 who wish they were 69'ers

John William Davis Jr.

Born: Cedartown, GA

Age: 51

Birthdate: 01-26-51

Spouse: Teri Milam (Detective Sgt. with county police dept.)

Parents: Ercel and John W. Davis

Sisters: Patsy and Tammi

Children:

Lee 30..................RN

Sommer................911 dispatcher and a junior in college.

John.....................Lance Corporal, USMC, San Diego, CA.

Granddaughter: Macey 10

Graduated: 1969 Upper Heyford High School

College: 2 years (Univ. of Maryland & Floyd College, Rome, GA.)

Worked for General Motors after high school

U.S. Air Force 1972-1976 (spent most of 4 years in San Vito, Italy)

*Continued rock n' rolling till about 1980...played with Oz and Streamline !!

Started Davis Flooring Service in 1977

Began Professional Flooring in 1989

Began PROFLOORS.COM in 2000

***Still at it !!

Hobbies: music, coaching 13 & 14 yr. old football & baseball (starting 16th year), fishing, cooking, travel, and staying in touch with old friends.

Dreams: good health, good friends, and win the lottery

Passions: family, work, good times with friends

Music: Rolling Stones, Joe Cocker, Who, Music Machine

Cars: SUV's

Food: Cajun dishes, chicken, and raw oysters

Sports: boxing, football, baseball

Favorite platers: Johnny Unitas, Willie Mays, Wilt Chamberlin, Mohammed Ali

Favorite women: Racquel Welch (besides Teri)

Favorite saying: Damn Gump !!

Favorite college team: Univ. of Georgia Dawgs

Favorite pro teams: Falcons & Braves

Dislikes: bigotry & child abuse

Gary Russell Crandell

Born: Ely, Cambs, England (same hospital as my Mom)

Spouse: Jan Hutchinson. We got married in 1992, first time for either one of us. No kids.

Parents: Msgt. Russell A. Crandell and Marie Chester. Dad passed away 3.12.1995 in Mesa, Arizona.

Pets: Two German Shepards, T-Bone and Wilbur.

Brothers and Sisters: Brian, Bob, Cathy, Laura, Keith, Jason.

Hadite Connection: Upper Heyford Elementary 1st grade (also attended English primary school in Maids Morton.)




     UHHS 10th - 12th. Graduated in 1969.
Other Education: DeVry, Phoenix, AZ. Major: Electronics.




  Mesa Community College, Mesa, AZ. AAS Electro-Mechanical Automation.
                         Mesa Community College, Mesa, Arizona. AAS Electronics Technology.

                         Rio Salado Community College, Tempe, AZ. Major: Computer Science (currently attending).

Present Location: We own a house in Tempe, Arizona.

Vehicles: 1992 Toyota pickup, 1997 Nissan Altima.

51 and having fun. Have real estate office in Perry, Georgia. In real estate for 27 years. Note: have been in real estate in Perry, Georgia as long as John Davis has been in Rome, Georgia and it took us 23 years to find out, thanks to Gary Crandell.

Two boys soon to be 19 and 21.....pray for me!!!!!!!!!

Married to Francine Wisotzkey Pensyl since 1974......she was the only one I could find who would benefit by becoming a Pensyl.

Sister: Jody Pensyl Sieg, Class of ''71.


I grew up in Lower Heyford. My father 's family had a long connection. We found a family bible showing us as having a connection going back at least until the early 19th century. My mother came from Austria in 1947. I have two brothers, both living near Heyford, one in Bicester and one in Middleton Stoney.

I attended school in Lower Heyford until age 11 and then went off to Bicester School until 1969. I made my connection with Heyford social life in about 1967, when I started an evening job cleaning the High School. I saw lots of names written on those arms of the chairs( which I had to clean off!), but I only got to know the faces  later! I got to know one or two people and things just grew from there, Armor Boyd and Louis Janot were the first two names I can remember. I eventually met up with JD, Gary and the two Mikes of  "Under The Influence". Had a great social life ( I will not incrimate anyone !) and took school work too lightly, which did not help get the required grades! I had by then started working in the service station at weekends.

I started working in support for Air Traffic Control at London Heathrow in 1969, followed by working as a controller at the London Centre. Changed horses so to speak and started flying  professionally in 1977, having been flying for fun and working towards a commercial since 1969. Flew a corporate jet for 8 years then moved into airline flying in 1985. I now work for British Airways as a training captain flying the Airbus A320. Spent some time flying the 747-400 in the 90's and must have been very close to meeting some of you, but did not know it !

I will have been married to Jean for 30 years  on 21st July, so will be in Las Vegas for that! The benefits for her of this arrangement have included moving from the bottom of name lists (her name was Stirrups)) to the top. She is a High School Principal or, at least our equivalent and is busy studying in her spare time for Doctorate.She is a kind of Mrs Fix It for schools with problems and is starting to get some challenging work from the Government.

We have two daughters, Rachael (20) and Kate (18). Both are almost finished with the "alien years" of teenagers and are now becoming quite reasonable people! Rachael is studying languages in Scotland and Kate is going to study physiotherapy. We also have a dog, which gives lots of opportunity for the use of a vacuum cleaner!

I spend my spare time doing  technical work for the pilots association in the UK. I had been technical pilot for BA for a while , but the politics did not suit, so now I do it for free and get to do what I want. Gets me to places I would not otherwise get to and is very interesting for an aviation nut like me.

My hobbies are aviation of all sorts, skiing, ( visit my web site
www.skisemmering.co.uk
) , guitar playing and music, reading, walking (best in Austria!) and railways, both  full size and models.   
I am looking forward to seeing some old friends in the summer!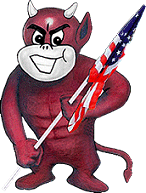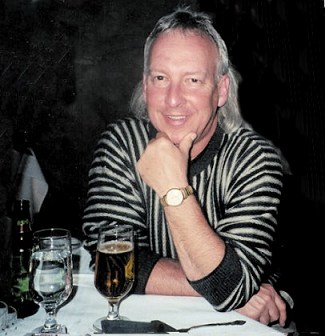 Martin Alder   Honorary Hadite 69'er




Click on the photo to go to the About Me page


We were at Upper Heyford for another year or so after I graduated in 1969. I had planned on going to an art school in Banbury and staying in England, but my Dad talked me out of it, so I washed dishes at the NCO Club on Croughton until we went back to the States in August, 1970. We got sent to Columbus AFB, Mississippi, which was quite a culture shock after having just spent three and a half years in England. My Dad retired from the AF in June, 1971 and my family moved to Mesa, Arizona. I stayed in Mississippi and worked at an air conditioning company, but I eventually got tired of rednecks and tornadoes and I moved to Arizona in late October 1973. I was a lab analyst at Spreckles Sugar then worked as an equipment maintenance technician at General Semiconductor until the plant was sold. I then went to college under the displaced workers program and got a degree in Electro-Mechanical Automation. The week I graduated I was hired by Motorola as an equipment maintenance technician. I stayed in school while working at Motorola and got a degree in Electronics Technology. Motorola sold the semiconductor products sector in 1999, and we became On Semiconductor. I stayed working as an equipment maintenance technician for several more years before leaving in 2001. I then took a year off to relax and travel with my wife, and I am now semi-retired and back in school, working on a degree in computer science.

I played in a number of bands over the years, even managed to get on a couple of local records, but nothing ever became of it, unfortunately. It's amazing how much politics there is in the music business!! I also taught myself how to play guitar... atone point I was playing drums in one band while playing lead guitar in another band at the same time. That's a tough way to make a living though, and I'm now retired from all of that. Still have two guitars though, and I'm also slowly learning how to play piano. There's nothing like being on a stage bu it's a lot more work than most people realize!!

I've also continued with my artwork and have managed to sell quite a few drawings and paintings, and lately I've been getting into painting with acrylics. I have an art gallery website at
http://www.garycrandell.com
in case anyone would like to see some of my work. I don't have any paintings on there yet but I will be adding some soon. I'm also really into 3D and computer graphics... I created all of the graphics on this website for example. I'm getting into programming too, and website design... I created and designed this site and also my art gallery site. I don't know where all of that is leading, right now I just do it for fun, guess we'll see what happens!!
My wife Jan and I were married in August, 1992 (first time for either of us) and we own a home in Tempe, Arizona. We don't have any kids, but we do have a couple of German Shepards, T-Bone and Wilbur. We love to drive around the country and have been on several extensive road trips. In 2000, we drove back to Arizona after the Hadite reunion in DC, and in 2002 we drove up the coastal highway to Seattle, meeting several Hadites along the way.

I have many fond memories of Upper Heyford but it's the people I remember the most. After we left England I didn't hear from any Hadites for 29 years or so, but there wasn't a single day when I didn't think about my friends and people I knew back in England. In 1999 I finally started finding a few Hadites online, and since then I've been to two all-school reunions and also to a mini-reunion a few of us had in Sedona, AZ in 2001. I've also hooked up with a number of Hadites that have visited Arizona, so if you're ever gonna be out here sometime, let me know, I'd love to see you. I love finding old friends and bringing Hadites together, and meeting new Hadites, that's the whole reason for this website. My time at Upper Heyford was one of the best times of my life... I bleed maroon and white and Hadites will always have a special place in my heart.