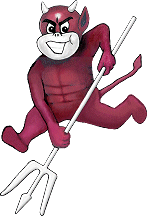 Welcome to the 2006 Hadite Reunion page. Here you will find the latest information about the upcoming reunion so be sure to check this page often.

Date: Friday July 21 - Sunday July 23

Location: San Antonio, Texas

Venue: El Tropicano River Walk Hotel

           (800) 288-3927

           (210) 277-4141 (hotel front desk)

Reunion 2006...San Antonio, Texas

Mark your calendars now and plan to attend our 2006 Hadite Reunion in San Antonio the weekend of July 20-23, 2006! Bill Gunkel of Reunions Unlimited is in the "saddle" once again and ready to "rope" in you Hadites for a low-down hoe-down along the fabulous River Walk of San Antonio.

El Tropicano River Walk Hotel, located at the start of the famed River Walk, will be the host venue for our reunion weekend. The property is currently undergoing a multi-million dollar renovation but management advises us that the renovations will be complete before the reunion. Local boy Steve Garcia is going to give us regular progress reports. We have secured a block of rooms at the group rate of $99.00 per night plus tax/gratuity for single, double, triple, or quad occupancy. You can't beat that rate partners! You can visit the hotel website at
www.eltropicanohotel.com
. The toll-free number for reservations is (800) 288-3927. Make sure you mention the name an dates of the reunion so you get the group rate.
This year's reunion will follow our traditional format with a Welcome Reception Friday night, Dinner Dance on Saturday night, and a Farewell Brunch on Sunday morning. We are also looking into the possibility of one or two small group tour options on Friday or Saturday for those of you that want to make it a mini-vacation. Bill plans to have registration materials in the mail to everyone around February 15th so keep watching your mail. We plan to post the agenda and registration forms on Reunions Unlimited's website,
www.weplanreunions.com
as well as any available website for Hadites.
Where's the beef? Prices for the event will be included with the registration materials; you may register for individual activities or the whole weekend, which of course affords the best deal. We still have a few last minute details to hammer out so we appreciate your patience over the next few weeks as we work with Bill to "bring in the herd." Please be assured that we want to get all the details out to you as soon as possible.

In the meantime, help us out and spread the word to fellow classmates. Keep checking Reunions Unlimited's website for updates...

On behalf of the whole reunion committee, best wishes for 2006! We hope to see you all in July.

Leslie Howell '83

P.S. Sorry for the corny cowboy analogies. I've always had a thing for cowboys, except for when they mix it up with Steelers of course!

This page was last updated on August 25, 2011
The registration packets for the July 2006 reunion in San Antonio have been mailed to all Hadites who are registered at the UHHS-CHS Alumni Association website (
http://www.hadites.com
). If you did not receive a packet you can download the registration forms at the Reunions Unlimited website (
www.weplanreunions.com
).
If you are not sure if you are registered, or you have moved since the 2003 reunion and need to update your contact information, please e-mail Lyn Pool '73 (Hadite Data Keeper) at
LPool@mail.ev1.net
and she will be more than happy to help you out.
2006 Reunion Organizing Committee


Click on the button to see who's planning on being in San Antonio this July...


Click on this button to visit the official UHHS-CHS alumni association reunion page at hadites.com. This page is updated by members of the reunion committee so please stop by for the latest reunion news.

February 11, 2006

*Several Hadites have reported that when they tried to book a room through the El Tropicano website they received a message saying that no rooms were available. Lyn Pool '75 contacted Bill Gunkel of Reunions Unlimited, he checked it out and says the website is apparently not working properly, rooms are available but you have to use the toll free number to make your reservations (800-288-3927). If you have a problem with the 800 number, call (210) 277- 4141, which is the hotel itself.

Schedule of Events

Thursday July 20, 2006

Friday July 21, 2006

Saturday July 22, 2006

Sunday July 23, 2006

Late afternoon - Hospitality Suite opens

7:00pm - Informal opening reception, cash bar

6:00pm - Formal reception, dinner and dance

9:00am - Farewell breakfast

The Upper Heyford / Croughton American High School – Reunion 2006

Join the Hadites for a devil of a time in San Antonio!

July 20-24, 2006

Here is the breakdown of prices:

All Events:                                          $200

Friday and Saturday Nights:                 $160

Sat Night and Sun Morning:                 $160

Sat Night Only:                                   $90

Fri Night Only:                                    $80

You may go to our website to register www.weplanreunions.com/www/reunion_info/reunions_uh.html  - or call 1-800-868-7531 to register or for more information.

Room reservations can be made with The Clarion El Tropicano Riverwalk Hotel located at 110 Lexington Avenue on the Riverwalk. The hotel is offering a weekend special of $99 per room, per night. Call 800-288-3927 to make your reservation. They will sell out of rooms!

Thanks and we hope to see you at the Reunion – Your Reunion Committee

June 20, 2006

E-mail from Bill Gunkel, Reunions Unlimited

San Antonio Reunion 2006 photo galleries:

http://www1.snapfish.com/thumbnailshare/AlbumID=48146165/a=59068060_15627719/t_=59068060

http://www.kodakgallery.com/Slideshow.jsp?mode=fromshare&Uc=ediibtn.5qihwyj&Uy=b7o6z6&Ux=1

http://haditesforever.photosite.com/